2021. Multilingual Democracy. Switzerland and Beyond. Lanham: Rowman & Littlefield / ECPR Press. Link | Blurbs by Donald Horowitz & Philippe Van Parijs | What the video "Author meets critics" here | Contact me to receive a discount code.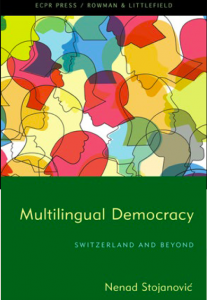 |
2018. Equal Recognition, Minority Rights and Liberal Democracy. Alan Patten and His Critics. London: Routledge. [Co-editor of with S. Morales-Gálvez.] link. Previously published as a Special Issue of Critical Review of International Social and Political Philosophy 20(1), 2017.
2015. Reserved Seats, Parties, and Group Representation in Bosnia and Herzegovina, Special Section in Ethnopolitics 14(4): 382–434. [Co-editor of the Special Section with E. Hodžić.]
2014. Dialogo sulle quote. Rappresentanza, eguaglianza e discriminazioni nelle democrazie multiculturali. Bologna: Il Mulino. (Indice. Sito editore. Capitolo 7.3. Recensioni: Ticino 7, Verifiche, Language Problems & Language Planning. Interviste/presentazioni: il Caffè_1, swissinfo, il Caffè_2.) Il libro può essere ordinato tramite e-mail al prezzo speciale di 15 fr. (invece di 24 euro ; IVA e spedizione comprese). Ascolta l'intervista alla Radio Svizzera, Rete 2, «Foglio volante», 13.11.2014, 18h05'40"-18h10'31".
2014. Demokratie in der Europäischen Union. Ein Schweizer Beitrag zur Debatte | Democracy in the European Union. A Contribution from the Swiss Perspective. Zürich: Schulthess. [Co-editor with D. Kübler.] (Inhaltsverzeichnis | Table of Contents. Jetzt kaufen – buy now.)
2013. Dialogue sur les quotas. Penser la représentation dans une démocratie multiculturelle. Paris: Presses de Sciences Po. (Sommaire. Remerciements. Fiche de promotion. Acheter maintenant. Vidéo: dialogue n° 2 (français), dialogue n° 3 (Deutsch). Les comptes rendus: Lectures, Revue française de science politique, Minorités linguistiques et société, Language Problems & Language Planning. Entretiens/présentations:  l'Hebdo, Le Courrier, l'Express, swissinfo).
2013. New Nation-States and National Minorities. Colchester: ECPR Press. [Co-editor with J. Danero Iglesias & S. Weinblum.] (Contents. Buy now – hardback.) 2nd edition March 2014. (Buy now – paperback.)

2011. 'Switzerland. A Nation State or a Multi-national State?', Nations and Nationalism 17(4): 712–820. [Co-editor of the Special Section with M. Helbling.] (Read the introduction.)
2011. New/Old Constitutional Engineering? Challenges and Implications of the European Court of Human Rights Decision in the Case of Sejdic and Finci v. BiH. Sarajevo: Analitika – Center for Social Research. [With E. Hodžić.] (Free download English & BHS.)
2007. C'era una volta una città. Racconti di Sarajevo. Lugano: Fontana edizioni. Ordina qui (sconto 50%)